I recently had the pleasure of welcoming a very special little girl to my studio, and would love to share the images with you of this brave little fighter, Priscilla!
I first met Sejal and Pat for their maternity session, which was a wonderful morning in the forest – capturing some beautiful images of this truly lovely couple.
Although it took a little longer than usual to meet Priscilla due to her needing to stay in the hospital for quite some time, we finally met, and she was so beautiful, that I wanted to share some additional images to my Facebook 'sneak peeks'.
Priscilla came into the studio at three weeks new – much later than the usual 4-10 days I generally recommend for newborn sessions.   I will still capture a range of beautiful images at this age, both with eyes open and sleeping.
Even though Priscilla was less sleepy than much younger babies, we just took our time and worked to Priscilla's clock.  Once she had fed with mummy, I gently wrapped her and managed to catch some gorgeous slumbering images… I wonder what she is dreaming about?
During all of my newborn sessions, we use a range of outfits, props, wraps and accessories in the colours that mum loves.  My  studio is, as one mummy said, an Aladdin's cave of all things pretty!  I have an ever growing range, in every possible colour, which I source from all over the world in order to offer my families something a little different.  In fact, following a recent trip to California, I have lots of new outfits ready to be used in the next couple of months, so keep an eye on my Facebook page!
Mummy chose a Deluxe session which incorporates the use of seasonal fresh flowers to create a truly bespoke and stunning image – just look at Priscilla here – wow!
As well as creating unique set ups, it is always lovely to capture a pure and natural shot like this. I wanted to leave everything simple to show off this baby girl's incredible hair, super long eyelashes, as well as those creases and perfect tiny hands and feet!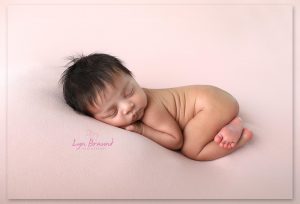 This last image is so special – beautiful Sejal with her strong little miracle – what a lucky baby girl to have such loving parents – I am so impressed with your strength of character and devotion to your daughter Sejal and Pat – it has been such a pleasure capturing this start of your journey together.  I can't wait to watch your precious daughter grow!
If you have any questions or would like to book a session, please do not hesitate to contact me either via Facebook, Instagram, or email
Please do also take the time to read through reviews that my wonderful families have taken the time to leave for me – their words hopefully say it all!
Thank you for taking the time to read this, and I hope to hear from you soon!
Lyn xxx