What a couple of weeks I have had!  I feel so honoured that this month three soon-to-be mums have chosen me to be part of this magical time, and document their incredible journeys (see our Facebook page
here
for sneak peeks of all of our sessions).
I love maternity shoots! I understand that deciding to capture your bump can be a hard decision and feel very daunting – so I thought I would write a little about what happens during these sessions and hopefully help anyone who is undecided make their decision…
Maternity sessions are totally guided by our mums – we work together prior to their visit to ensure we both understand exactly what it is mum likes and would like to achieve.  Some mums choose a beach or forest location, others prefer studio sessions with low lighting – we love them all!
Let me introduce Sevin – a beautiful mummy-to-be who received a Gift Voucher for a Newborn Session with us, and then decided to take the plunge and include a maternity session – and I am so glad she made that choice, she was a joy to photograph!
Sevin chose to have the session at my home studio which is in a beautiful location and has a lovely relaxed atmosphere.  We never rush our sessions and always take time to get to know each other and talk through what we have planned, ensuring we create a bespoke experience tailored to fit each client. We had lots of fun, Sevin took direction so well and posed beautifully! We had a few giggles as we worked our way through the different set ups!
All sessions include multiple outfit changes from our broad selection of gowns and dresses (varying from glam dresses from the UK to full length ballerina tutus and classic lace gowns from the USA…the choice is endless!).  Sevin chose outfits that really fitted her style and personality – and even brought her own shirt shown in the photo above – doesn't she look stunning!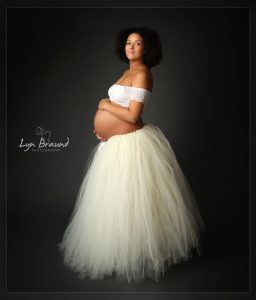 Having a Maternity session and creating these wonderful memories can be purely for you and your partner, these are images that you will never have the opportunity to recreate. I will make sure you feel comfortable, relaxed, cherished and beautiful – this is your session to take time out to bond with your bump and embrace this wonderful time during the last few weeks of pregnancy.
If the idea of being photographed alone is not for you, you are more than welcome to include your partner in the shoot, and if you have other children, they can join in the fun too!
You can read more about maternity sessions here.   Included in the price are three downloads of images of your choice along with a  50% reduction on your newborn session if booked at the same time 💞
If you have any questions or would like to book a maternity shoot, please do not hesitate to contact me either via Facebook, Instagram, or email If you are a little apprehensive and would like to have a chat prior to booking, you are more than welcome to give me a call, I am always available (when not in a session) and am more than happy to come back to you if I miss your call.
Please do also take the time to read through reviews that my wonderful families have taken the time to leave for me – their words hopefully say it all!
Thank you for taking the time to read this, and I hope to hear from you soon!
Lyn xxx